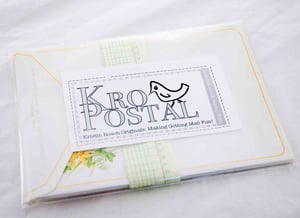 $

8.50
I fell in love with this stationary the first time I saw it! It's such an interesting design. You write on the one side, on the blank back side, fold it all up, lick, seal, and off it goes! Another wonderful touch is the return address: Ethel Murkel!
Which if you are sending it off in the mail as is I would make sure to cover it with your own return address. I have written letters on some and put them in packages so I could leave the return address intact.
Each set includes 5 pieces of the stationary.